About the Bruce T. Hart Funeral Home
The Bruce T. Hart Funeral home has been serving families in the St. Clair area and all of Schuylkill county for decades. Our goal is to provide caring and a dignified services for families in their time of need.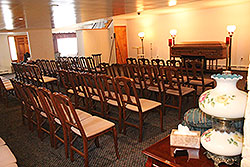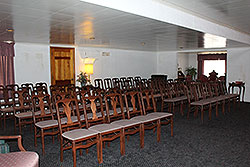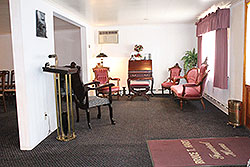 Facilities
Our easily locatable facility at 110 N 2nd St., has plenty of off street parking, as well as ample on street parking. Our Funeral home seats over 50 guests and boasts two newly renovated restrooms and a conference room.
Services
The Bruce T. Hart Home contains some of the areas most comprehensive options on funeral services. Whether you prefer a simple private service, cremation service, or a traditional funeral service, we are here to help you in selecting the most fitting tribute to you loved one.
Value
Attentive to rising funeral costs across the nation, state and county we have kept our prices competitive and reasonable to our families, remaining much more affordable to the families we serve.
Merchandise
Our merchandise is of the highest quality and where we can, locally produced. Our caskets are purchased for the Schuylkill Haven Casket Company (Haven Line Industries) and our Vaults are Produced by the Ringtown Wilbert Vault Co. By supporting local businesses, we help to keep local people employed.
Community
We believe as a local business it is important to support the local community. We donate to several local charitable and nonprofit organizations, volunteer time and energy to make the community that supports us a better place.
Preneed
Click Here To Start Preplanning Now
More and more people are choosing to Preplan their funeral service, and we are here to assist you with in sorting through the many options you have when you choose to preplan. Through effectively preplanning a funeral, you can protect assets and save money. One of the programs we most commonly use is the Loyal Christian Benefit Association (LCBA). This association is based in Erie and serves many states, besides Pennsylvania, for their pre-funding needs.
Aftercare
At the Bruce T. Hart Funeral Home our job is not complete when the funeral service is finished. We are always here for any problems or questions you might have. We also have many resources that may help you when dealing with the loss of a loved one.
Staff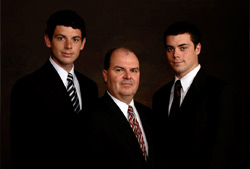 Our highly trained professional staff is ready and willing to help you with any problems or questions you have at all times. No question or problem is too big or small for us to help you with. We are here to assist you before, during and after services.
Learn More About Our Staff Here
History
After three years of working at funeral homes in the Allentown and Hazleton areas, Bruce Hart decided to come back to his hometown of St. Clair. The Bruce T. Hart Funeral Home was founded in 1979 by Bruce Hart at the 110 N. Second Street Location, which was formerly the Monahan Funeral Home. For almost 30 years the Hart funeral home has been dedicated to providing the finest services the area has to offer. In 2007 Bruce's two sons, Ryan and Joshua joined the business their father started.
Since its founding the Hart Funeral Home has grown into one of the areas finer funeral establishments. Modern Facilities and superior services highlight the funeral home's resume. In 2009 the Bruce T. Hart Funeral Home was voted the best funeral home in Schuylkill County by Schuylkill Living Magazine.